SiteDynasty.com - WebSite Development / Web General Resources
These SiteDynasty.com - WebSite Development / Web General Resources are also available for your consideration.
Note: These resources/websites are generally external to NextWebWorld.com, however we do appreciate legitimate feedback on them. Information listed is generally from the respective sites.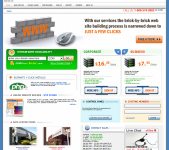 Complete WebSites: Domain, Hosting and WebSite Development with SiteDynasty.com.

Setting up a website can seem complex to many people. Selecting a domain name (.com or other), creating the site and selecting a host (where the site is stored) all can seem too confusing. SiteDynasty allows you do all this and more. You can select and register a domain, create a simple site online using templates and have it hosted all in one convenient location.
Visitors may utilise this info or return to Next Web World Home
Partners: Note for partners, NextWebWorld.com generally welcomes partnership proposals with relevant topics of interest to Next Web World visitors. If you wish to be considered for partnership(s), please suggest a relevant topic or link. You should refer to our Partners page for more info.
As per our Terms And Conditions Of Use, NextWebWorld.com is not necessarily endorsing external resources/sites.